Introduction
Cervical incompetence is an unexplored medical condition since it only occurs in about 1 out of 100 recorded pregnancies despite the devastating end results. Cervical incompetence is a well recognized cause of miscarriages in the second trimester of pregnancy and the diagnosis is often made after women have had multiple unsuccessful pregnancies. This is attributed to most women not noticing the painless cervical dilation that indicates the presence of cervical incompetence. Many surgical and nonsurgical modalities have been proposed to treat cervical incompetence. Unfortunately nonsurgical approaches have not proven effective while surgical approaches have been found to be very limiting in their ability to prevent miscarriages/preterm birth and sustain a pregnancy. Quality and quantity of available treatment options for cervical incompetence are limited. We at Cervos have designed a minimally invasive device that will help a woman with cervical incompetence reach a full-term pregnancy. The simplicity yet elegance of the design will permit the device to double as a preventive treatment. Therefore, women who are uncertain if they meet the qualifications for cervical incompetence can place the device before or in early stages of pregnancy to safeguard their pregnancy without any negative repercussion.
Competitors
Bed Rest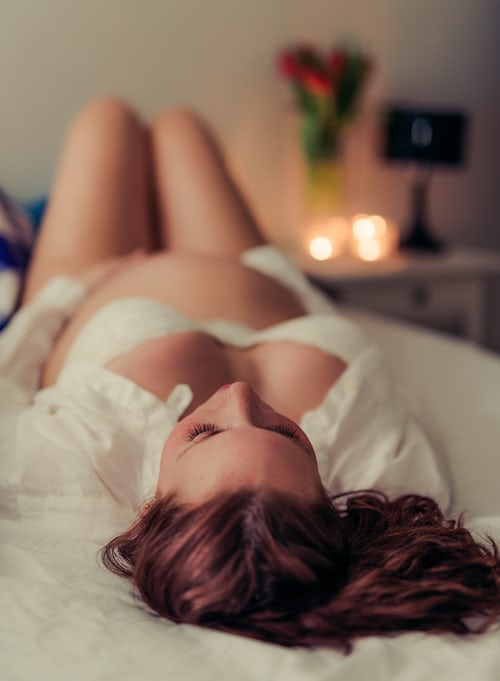 Typically, after a woman has been diagnosed with cervical incompetence her doctor will prescribe bed rest.Initially best rest seems like a simple and cheap treatment however upon closer inspection it's clear to see that this not the case. In hindsight, it is physically, emotionally, and financially taxing. Usually, a woman treated with bed rest will have various restrictions placed upon her. To start with she will not be able to lift anything greater than ten pounds while pregnant and she can only remain in the sitting position one hour at a time before having to lay back down. In addition, she has the burden of ensuring she does not surpass 30 minutes of physical activity, this includes mundane everyday things like showering, cooking, cleaning, etc. Given the physical restriction described above, for a woman to have a chance at a successful bed rest, she will need to be financially secure as physical labor will be off limits. Moreover, she will be highly dependent on another person to help with her daily activities. Aside from weakening muscles and bones, the mother might also suffer psychological effects like depression and anxiety from being bed bound. Many women do not have the luxury of having the correct circumstance needed for bed rest. Consequently, this treatment is unrealistic which is unfortunate because often it's the only treatment option for many women. In conclusion, the treatment is ineffective therefore the probability of miscarriage or premature birth does not decrease.
Makena

Makena is a form of progestin that helps the uterus grow and keep it from having contractions. Makena is used to lower the risk of premature birth in women who have already had more than one premature baby. Makena first gained FDA approval in 2011 however, an independent panel of advisers to the Food and Drug Administration are highly recommending it be taken off the market. This recommendation was based on the totality of the evidence gathered since its release. The evidence suggested that the drug does not work for its intended use. Makena will not stop premature labor that has already begun and can not be used in women who are pregnant with more than one baby. Additionally, women who are affiliated with the following conditions do not qualify for Makena: blood clots problem, breast cancer, vaginal bleeding not related to the current pregnancy, liver problems and uncontrolled high blood pressure. In addition, to not being very effective for women with cervical incompetence the cost is around $848 for a supply of 1 milliliter. On average, the cost of Makena treatment while pregnant is $30,000.
Pessary
The Arabin Pessary is a cervical pessary that is designed to support the cervix of women with cervical incompetence. It's designed to be elastic and flexible in order to support the cervix while the pregnant woman is undergoing physical strain. The pessary is designed to be inserted during the early stage of pregnancy. The Arabin Pessary is currently not FDA approved in the United States an most women who use this pessary obtain it through a third party, such as ebay.. Independent organizations have tested the integrity of the device with conflicting results.Best case scenario it helps with postpoing premature birth but also reduces the incidence of diseases in children caused by premature birth. In other cases, the pessary does nothing to support the cervix and even induce premature birth or miscarriages. This is attributed to the fact that incorrect placement of the device can cause bacterial infections around the interface of the device and the cervix channel. Proper training to apply the pessary has not been established.
Cerclage
The surgical treatment for cervical incompetence is often referred to as cervical cerclage. The procedure involves using sutures to sew the cervix closed during pregnancy.The cervix is the lowest part of the uterus that leads to the vagina. Cervical cerclage can be done through the vagina(transvaginal cervical cerclage) but also through the abdomen(transabdominal cervical cerclage).The latter approach is commonly reserved for women when vaginal stitching has failed or is extremely difficult due a scarred cervix. Either way, surgical manipulation of the cervix can cause uterine contractions, bleeding or infections which can cause miscarriages or preterm birth. Cervical cerclage is typically done during the third month(12-14 weeks) of pregnancy as this yields the best results.The procedure is successful in 85% to 90% of cases. However, cerclage placed later in the pregnancy(emergent cerclage)and multiple gestations have lower success rates of 50% to 80%. If changes in the cervix are found very late in the pregnancy even emergent cerclage can not be done, in that situation bed rest is the best alternative. In addition, a study conducted in 2018 by the Department of Obstetrics and Gynecology,Korea University College of Medicine, has discovered that cervical cerclage could not prevent preterm birth among women who had obtained cervical incompetence via a biopsy for cervical cancer. A woman is no longer considered to be eligible for cerclage if her cervical length is smaller than 15mm. On top of cerclage not being a viable option for everyone,the produce itself can be costly. Depending on insurance plans it can range from approximately $2,000 to $6,000.
Cost Comparison
The table below are estimated average cost of treatments. Cost will vary for each individual depending on severity of situation and insurance plan.
Name of Treatment
Description
cost
Progesterone and Bed Rest
Minimum financial cost associated with treatment
$30,000
Pessary
Cost of product(does not included cost of inserting and removing pessary).
$50-$90
Cerclage
Cost of inserting and removing cerclage.
$8,289
Limitations
Bed Rest
Makena
Pessary
Cerclage
physically restrictive
Costly
ineffective
Costly
ineffective
ineffective
hard to obtained
Highly invasive
References
[1] "Incompetent Cervix : Weakened Cervix." American Pregnancy Association, 25 Oct. 2019, americanpregnancy.org/infertility/incompetent-cervix/.
[2] "Incompetent Cervix." Mayo Clinic, Mayo Foundation for Medical Education and Research, 25 July 2019, www.mayoclinic.org/diseases-conditions/incompetent-cervix/symptoms-causes/syc-20373836.

[3] Patel, Yesha, and Martha M Rumore. "Hydroxyprogesterone caproate injection (makena) one year later: to compound or not to compound that is the question." P & T : a peer-reviewed journal for formulary management vol. 37,7 (2012): 405-11.

[4]Dbrenner. "Home." Makena® (Hydroxyprogesterone Caproate Injection), makena.com/.

[5]. Neighmond, Patti. "Controversy Kicks Up Over A Drug Meant To Prevent Premature Birth." NPR, NPR, 4 Nov. 2019, www.npr.org/sections/health-shots/2019/11/04/776172053/controversy-kicks-up-over-a-drug-meant-to-prevent-preterm-birth.

[6] Tsikouras, Panagiotis et al. "Comparative Evaluation of Arabin Pessary and Cervical Cerclage for the Prevention of Preterm Labor in Asymptomatic Women with High Risk Factors." International journal of environmental research and public health vol. 15,4 791. 18 Apr. 2018, doi:10.3390/ijerph15040791

[7] A. Care, R. Jackson, E. O'Brien, S. Leigh, C. Cornforth, A. Haycox, M. Whitworth, T. Lavender & Z. Alfirevic (2019) Cervical cerclage, pessary, or vaginal progesterone in high-risk pregnant women with short cervix: a randomized feasibility study, The Journal of Maternal-Fetal & Neonatal Medicine, DOI: 10.1080/14767058.2019.1588245

[8] Cho, Geum Joon et al. "Cerclage is associated with the increased risk of preterm birth in women who had cervical conization." BMC pregnancy and childbirth vol. 18,1 277. 3 Jul. 2018, doi:10.1186/s12884-018-1765-6

[9]Alfirevic, Zarko et al. "Cervical stitch (cerclage) for preventing preterm birth in singleton pregnancy." The Cochrane database of systematic reviews vol. 6,6 CD008991. 6 Jun. 2017, doi:10.1002/14651858.CD008991.pub3

[10] No. 373-Cervical Insufficiency and Cervical Cerclage Brown, RichardGagnon, RobertDelisle, Marie-France et al. Journal of Obstetrics and Gynaecology Canada , Volume 41, Issue 2, 233 - 247